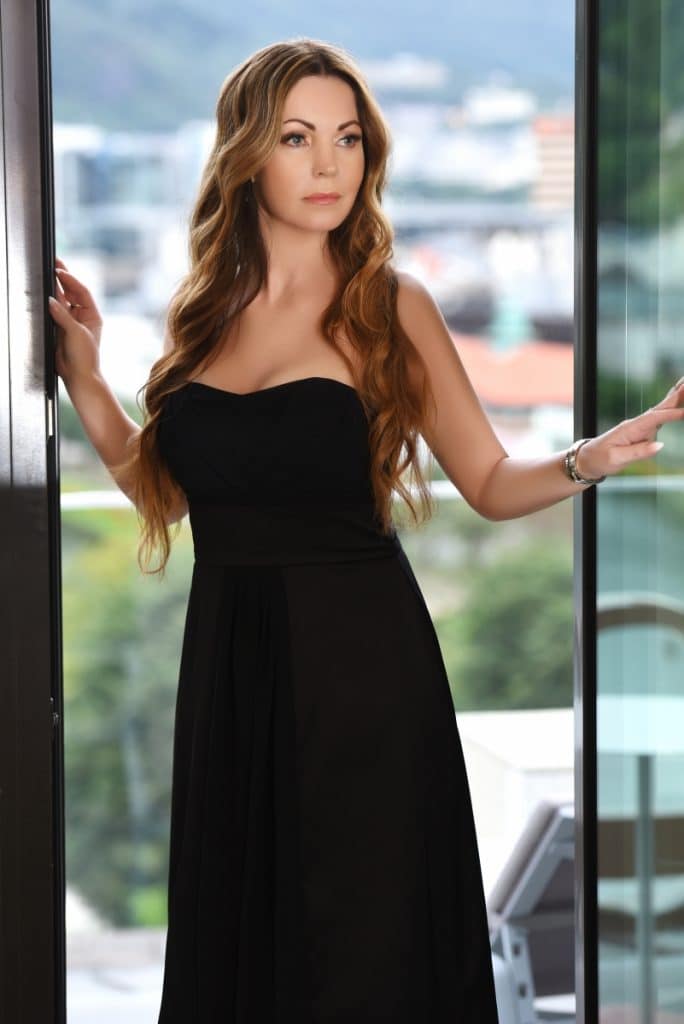 Norwegian fashion designer Kathrine Nørgård graduated from the esteemed school of fashion ESMOD Oslo in 2008 with a degree in Fashion Design and Creation. In 2010 Kathrine introduced her eponymous label 'Kathrine Nørgård' and started designing exclusive one-of-a-kind dresses.
Kathrine's designs have become a darling to many female celebrities and socialites, among them Kathrine Sørland, Ingeborg Heldal, Triana Iglesias, Cecilia Brækhus, Hanne Sørvåg, Laila Madsø, Linda Johansen, Julianne Nygård, Denise Peterson Ringnes, Silje Sandmæl og Tone Damli, all known to wear the designers creations. Kathrine`s feminine and elegant, yet sensual creations are often displayed on the red carpet and have been featured in several fashion magazines and TV shows.
Key to Kathrine's design aesthetic is her ability to highlight the personality of the wearer and compliment their frame, while still creating clothes that are comfortable to wear. Focusing on functionality, quality materials and high technical workmanship, the designer aims to create sustainable and classic garments with flattering cuts and delicate details that accentuate the female body in the best way possible.
In addition to her Signature Collection, Kathrine launched a new commercial line in 2015. This new line aims to offer affordable luxury while still maintaining the essence, style and quality of Kathrine Nørgård's Signature Collection.
The collections are available in Kathrine Nørgård`s online store. For those who prefer shopping online with the help an experienced personal advisor gives you, please book an appointment through our Liveshopping booking system. Coming brides and grooms to be also have the opportunity to book a privat meeting with Kathrine in the same system. The designer offers to advice building up your wardrobe, style counseling, and the creation of One of a kind garments.
As an experienced entrepreneur, Kathrine helps established and starts up brands with collection development, the design process, sampling prototypes, production of garments, branding, marketing, setting up the sales systems and distribution channels.
Nørgård has several designer collaborations on her resume, mentioning Asbjørn Fjeldheim, one of the creators behind brands like Lene-V, Solid and Risøe. Kathrine has also designed multiple collections for the label "ByKathrine", which was sold in 55 stores across Norway.
The designer has also joined forces with the brand Mazing, which today is sold in Norway, Sweden, Germany and Austria.
Today Kathrine is one of the most prominent designers in Norway, and since 2015 she has developed a Masterclass business, offering both physical and online classes for people interested in learning the techniques of pattern making. Nørgård`s Masterclass courses gives people of all shapes the knowledge needed to make clothes after their unique measurements and body types, helping individuals feel comfortable in their own skin. Kathrine Nørgård physical Masterclass is available in Oslo, Bergen and Stavanger. The online courses are accessible from everywhere.
Together with the designers new line "Kathrine Nørgård HOME" launching this autumn, the brand is continuing to contribute to a more sustainable world. The brand`s DNA reflecting the same values today as it did setting out in 2010.